Cleaning Up After the Fire
$4,188.14 of $12,000
Help us with the clean-up efforts at our facility and to replace the gear we donated to help house and shelter those in need..
Our Story
On August 8th, 2023 the island of Maui was devastated by wildfires and hurricane-force winds across the island. Over the past week, it has been incredibly difficult to watch as the horror has unfolded on our small island. One of the wildfires broke out across the road from our office facility but was luckily kept from advancing, sparing our office and the nearby Maui Bird Conservation Center. Even though we were spared from the fires our offices and grounds sustained some damage from falling trees and branches during the fire and high winds. We are incredibly lucky and grateful that we are safe and can return to our offices when so many have lost so much more.
Throughout this disaster, our crew has remained safe and has stepped up, volunteering their time, financial support, and resources to our communities in need. Resources on the island are beginning to become scarce so we have donated supplies and gear our team would normally use in our fieldwork to the shelters housing community members that are in need. We will need to replace this gear so we can continue our fieldwork but for now, there is a greater need here in our community.
This is a very tragic and difficult time for our island and all of the people that call Maui home. There is a long road to recovery ahead of us. Any and all help and support you are able to give at this time is greatly appreciated.
If you would like to donate or support other organizations on Maui, visit the following: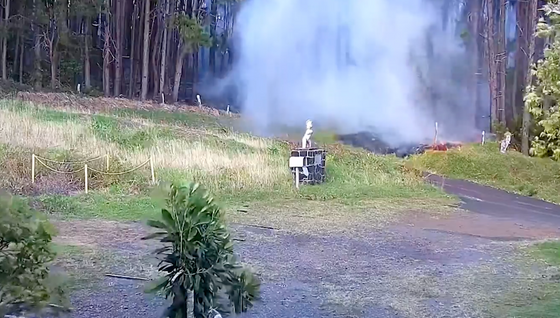 Photo by San Diego Zoo Wildlife Alliance of fire across the road from Maui Bird Conservation Center and downhill from our office.
NA Koa Manu Conservation Inc. is a tax-exempt public charity (federal tax ID #474189809). All contributions are tax deductible to the extent allowable by law. No goods or services were provided in exchange for your generous financial donation.