Music Gifting For Special Needs - 2022
$11,737.53 of $15,000
Reaching our goal of $15,000 will allow us to donate 100 Beamz Interactive Music Systems. This includes training, lesson plans and therapy guides, reaching and assisting between 1000 and 2000 individuals with Special Needs and Disabilities!
Share Your Blessings PROJECT MAESTRO ( see above video) is a collaborative music gifting program designed to get the Beamz Interactive Music System into the hands of individuals, families, professionals, schools, and organizations that have members with special needs and disabilities, and to support those individuals and organizations with a variety of training, education, therapy guides, lesson plans and activities. By simply touching light beams with their hands, anyone - regardless of their age, musical experience or disability - can have fun creating and playing extraordinary music, or being a DJ, while simultaneously receiving a wide variety of learning, physical, cognitive, social/emotional, communicative, and sensory skills & therapy benefits. As a result, Project Maestro is uniquely positioned to assist educators, individuals, parents, and therapists in overcoming the difficult problem of providing learning, life skills, and therapy to individuals with special needs in a positive manner that cannot be accomplished with traditional learning and therapy techniques.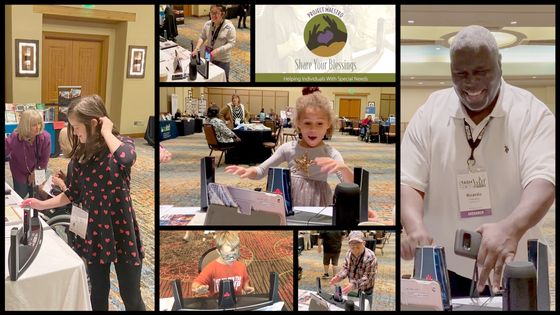 Additionally, the benefits of just listening to music are well known for stress relief, brain fitness, invoking memories, improving communication and participation in socialization activities given that the brain processes music using both hemispheres. Beyond listening to music, however, interacting with music via movement and engaging in activity making and/or performing music provides even greater extraordinary benefits for increased brain activity, enabling even more opportunities for wellness, skill building, skill maintenance and improved quality of life. See numerous in action testimonials on the below video and see an article by Vision Outreach Consultant Susan Davis on the following link: https://share-your-blessings.org/beamz-away.
Share Your Blessings, Inc. is a tax-exempt public charity (federal tax ID #20-3980183 ). All contributions are tax deductible to the extent allowable by law. No goods or services were provided in exchange for your generous financial donation.