Help Back to Basics Purchase A Van to Support Inner City Youth
$2,882.80 of $7,500
Reaching our $7,500 goal provides financial support to pay for a licensed and professional driver for our Back to Basics Van! Thank you so much for your support to ensure our student's success!
Back to Basics Youth Education Center - Going Beyond [BASIC]
Preparing At-Risk Youth for a Future in Computer Technology
Help Us Reach our FIRST Goal of $2,500
We need your support! Our first goal of $2,500 will be used for the down payment on a new van to transport the students from schools to our Computer Learning Center. Your generous support will mean that more at-risk students will be able to have a safe after-school place to learn and to grow. Together we can bridge the "digital divide" and give more Dayton students the tools and resources they need to achieve their educational goals and dreams!
How We Achieve Our Mission
Back to Basics addresses the "digital divide" in our community by teaching computer coding and other computer technology skills to at-risk inner city high school youth in Montgomery County, and specifically, in the Dayton School District. Our volunteer tutors teach basic computer software programs, like Microsoft Office Suite, as well as using online software to teach computer coding. We provide academic tutoring as well as personal development counseling to ensure our students will complete high school. We help them set and prepare for college entry, as well as explore computer career opportunities. We encourage personal growth and self-confidence as each student completes their learning modules.
Check out this amazing article about Back to Basics Youth Education Center published in Technology First HERE
Back to Basics During the COVID-19 Pandemic
When the COVID-19 pandemic interrupted the school year in Dayton, Back to Basics suspended its program activities. In June we received a $10,000 grant from the CARES act that we used air filters, masks, plastic shield protectors for each desk, rubber gloves, disinfectants and no touch thermometers; as well as new laptop computers. We reduced the number of desks from 20 to 10, and configured the classroom to comply with the six feet apart rule. We now have approval to begin classes as long as we maintain strict social distancing. Until we are able to resume full classroom instruction, we are open Monday through Friday after school from 4:00 pm - 6:00 pm for any student who needs to use a computer to keep up with online studies, as well as students who want to participate in our computer training.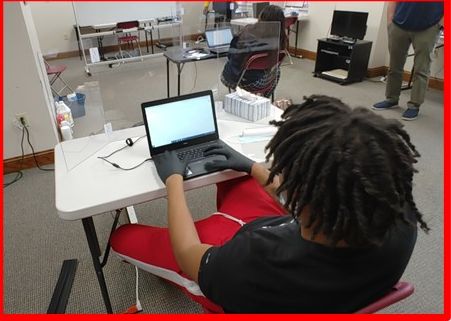 Our COVID-19 modified classroom, with plexiglas shields, and socially distanced spacing of the desks.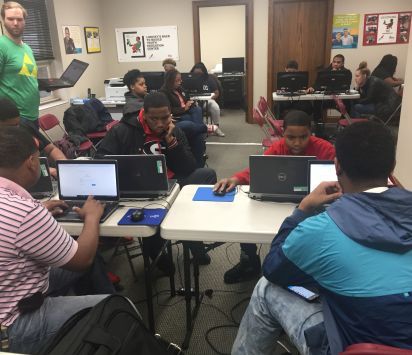 Our pre-COVID classroom full of Upward Bound students at the Back to Basics Youth Education Center.
Back to Basics Youth Education Center Visionaries
The Director, Lawrence Lindsey, is a native of Dayton, who served in the US Army, retiring as a Major, and holds an M.A. in Education. Our volunteer staff includes a computer programmer who works at Wright Patterson Air Force Base (Kevin Kirkle) and Abdul Al-Ramahi, a Sinclair Community College student majoring in computer technology. Also, one of our board members, Horace Bowins, who was a history teacher for many years, volunteers his time as the Program Manager.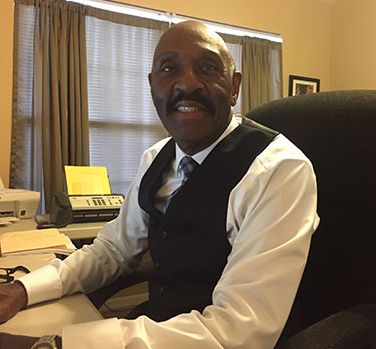 Lawrence Lindsey, Executive Director and Founder of Back to Basics Youth Education Center. Mr. Lindsey is Dayton native, who retired from the U.S. Army after serving for twenty years. He has a Masters Degree in Education, from the University of Dayton, and is a retired educator.
Back to Basics Youth Education Center is a tax-exempt public charity (federal tax ID #541861849). All contributions are tax deductible to the extent allowable by law. No goods or services were provided in exchange for your generous financial donation.
B2B Education Ambassadors