Bring Changing Perspectives to More Schools
$4,965.72 of $6,500
Help Changing Perspectives support schools during this incredibly challenging year.
Our Story
Changing Perspectives promotes social-emotional learning to cultivate inclusive and equitable communities for all students. Our goal is to educate, empower, and inspire individuals to become the change makers for tomorrow who help build a more inclusive, just, and equitable society. Since 2015, Changing Perspectives has impacted the lives of more than 50,000 preK-grade 12 students and educators. Your contribution today will help ensure that thousands more students are equipped to weather the present and prepare for a brighter future.
To learn more about the Changing Perspectives story, check out our website.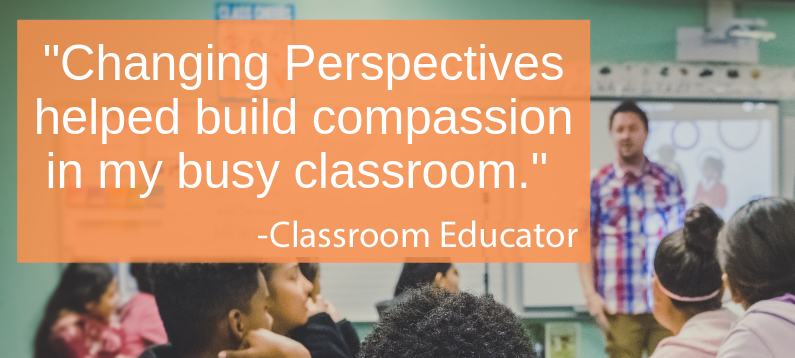 Changing Perspectives Needs YOUR Support
Despite the significant disruptions of COVID-19, our mission remains unwavering. In our increasingly complex world, empathy, communication, perspective-taking, and problem-solving are the universal building blocks for understanding ourselves and others.
This year has presented immense challenges for schools across the country. Schools are having to reallocate funds to purchase PPE, hire additional janitorial staff, and improve ventilation systems. Simultaneously, students' social and emotional needs are higher than ever.
As the educational landscape has shifted, Changing Perspectives has pivoted to meet schools' needs and ensure that our programming continues to be relevant, accessible, and impactful.
From Coast to Coast, Schools Need Our Help
"During this time, we come to understand what brings us together more clearly than what divides us. Our educators need tools to support connection, safety, and belonging among our students." ~Holly Wade, Director of Special Education Services, San Mateo Union High School District, California
"Changing Perspectives is just the resource we were looking for to assist us in meeting our students' social and emotional needs!" ~Kerry Course, Principal, Rutland Intermediate School, Vermont

Your gift to Changing Perspectives today will allow us to:
Provide scholarships to schools to ensure that emotional and social safety are prioritized along with physical safety
Ensure that educators have access to our expertise and resources to address students' immediate needs and to prepare them to face the future poised for success
Develop and distribute more family resources to extend emotional and social skill building beyond the classroom
For every $1,000 we raise, Changing Perspectives can provide programming to 200 students.
Changing Perspectives is a tax-exempt public charity (federal tax ID # 46-3115902). All contributions are tax deductible to the extent allowable by law. No goods or services were provided in exchange for your generous financial donation.