Empower Changing Perspectives to design a #BlueprintForBelonging
$4,097.53 of $5,000
Your gift to Changing Perspectives ensures that schools have access to the proactive tools they need to facilitate students' healing and future well-being. Your contribution will be DOUBLED thanks to a generous donor offering gift matching.
An Essential Necessity to Student Success
Changing Perspectives promotes social-emotional learning to cultivate inclusive and equitable communities for all students. Our goal is to educate, empower, and inspire individuals to become the change makers for tomorrow who help build a more inclusive, just, and equitable society. Since 2015, Changing Perspectives has impacted the lives of nearly 300,000 PreK-12 students and over 10,000 educators. Your contribution today will help ensure that thousands more students are equipped to build resilience for the present and prepare for a brighter and more inclusive future.
To learn more about the Changing Perspectives story, check out our website.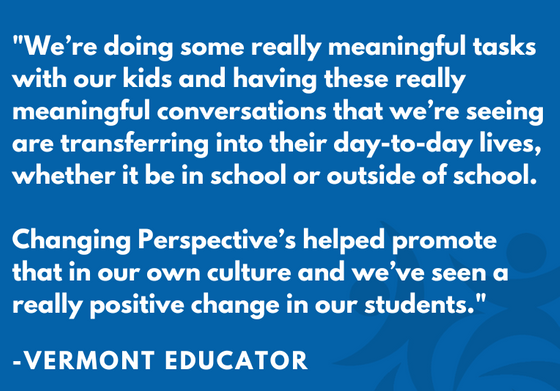 Changing Perspectives is a tax-exempt public charity (federal tax ID # 46-3115902). All contributions are tax deductible to the extent allowable by law. No goods or services were provided in exchange for your generous financial donation.