The Forest: Help Us Fight Climate Change While Building Community
$6,879.05 of $10,000
Will provide: Annual growing, planting & research of native seedlings in Togo; Hire full-time ERP Coordinator; Deliver consistent eco-educational programming to the local region; Purchase of land for nursery and community learning campus.
"Little by little, a little becomes a lot." - Tanzanian Proverb
WHAT IS THE FOREST?
A tree planted by itself can contribute to many things. But when planted as part of a forest, it truly thrives and contributes to a greater cumulative difference. Just like trees, we believe people grow and thrive together. The Forest is a community of monthly donors actively fighting climate change & deforestation through the empowerment and support of community. The Forest are people like you giving anything they can to help communities in Africa define and pursue their own sustainable development. The Forest members cultivate forests, both figuratively through their support of sustainably minded community development and literally through direct support of the growing and planting of native tree species.
WHAT IS ICPSD?
The primary goal of ICPSD is to support native species ecosystem restoration through community-led development. We work with local communities in a unique, holistic approach, blending science-based and local knowledge to bolster local communities in improving environmental and economic resilience, with a focus on youth and women.
By supporting reforestation efforts in Togo, you directly (1) participate in the re-establishment of healthy forest structure, (2) support conservation knowledge-building and educational outreach activities, and (3) increase accessibility to education and resiliency resources for women and youth.
ECOSYSTEM RESTORATION PROGRAM
Every year Togo loses approximately five million trees. This is in a country where the forest covers only 386,000 hectares, or 6.8% of the national area (half of what it was in 1975). Despite the already extremely low forest cover in Togo, the annual rate of deforestation (i.e. the area of forest cut in the year compared to the area of standing forest at the beginning of the year) has reached 4.5%. This ranks Togo as one of the highest in the world for deforestation. One of the biggest impacts on this in Togo being the 90% of households that rely on firewood for cooking. Agricultural expansion, logging, and forest fires are major factors as well.
Land degradation from deforestation is a challenge around the globe. It is a primary contributor to decline in crop production, increase in low income levels, and change to climate. Lack of knowledge on sustainable land management and forest biodiversity conservation, low levels of awareness by local communities, and poor land and forest resource regulations contribute to increased rates of deforestation and land degradation.
At the heart of ERP is a native plant nursery. The nursery is the primary platform from which ERP supports the reclamation and revitalization of native plant species within the framework of sustainable systems. It is a center for learning and research, a place where local and regional members of the Togolese community attend hands on workshops to learn about and explore sustainable practices for reforestation and afforestation efforts. It is also central to fostering citizen science and community-based understanding of climate change mitigation and adaptation measures. It provides information and vital mitigation measures that are location specific and community managed. The nursery out planting site is a multi-fold operation. Not only is it a place to increase forested land in Togo, but it is also the primary site for long-term native tree research and agroforestry experimentation. It is an important outdoor environment for citizen science in local and regional communities. All information gathered at the nursery and out planting site is made available for easy replication and adaptability in other regions and communities.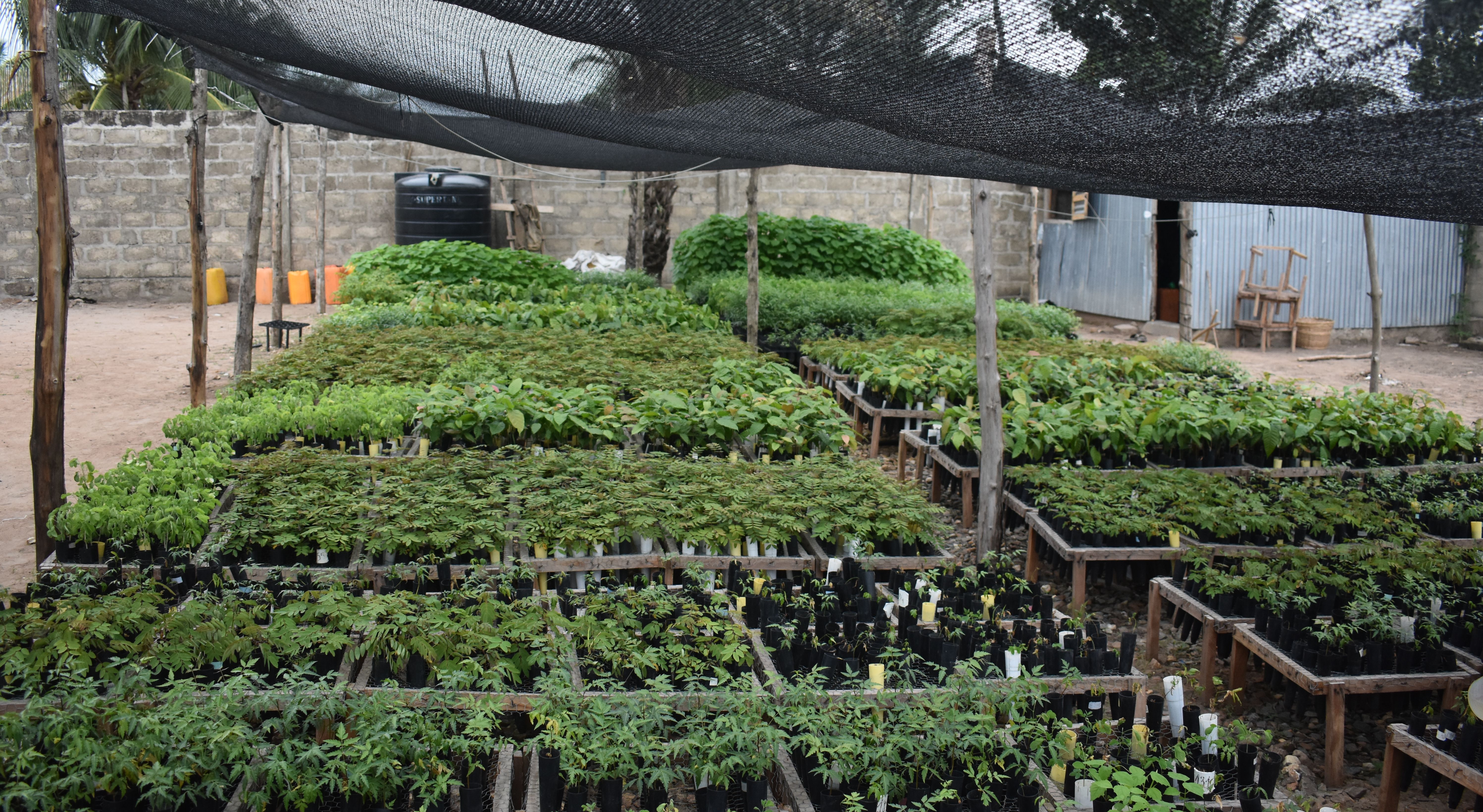 THE OPPORTUNITY
ICPSD's approach directly targets building knowledge and awareness around land management, agroforestry and other sustainable approaches by contributing to and supporting community-led education, outreach, and resources for the reforestation of native plant species. Women have a leading role in the business of farming and agricultural value chains regionally throughout Togo. We are partnered with a local women's cooperative who lead our workshop, nursery production, and outplanting efforts. We engage youth of the community in nursery and restoration activities while supporting their education and leadership development.
IMPACT
Agroforestry Communities in Togo rely heavily on small family farming. This also makes them more susceptible to the ramifications of climate change. The introduction of trees increases forest cover and improves soil quality through nutrient restoration, water retention, and carbon retention. It can also provide a replenishing approach to wood fuels, a large cause for deforestation in Togo.
Community Driven Development Community participation and leadership are the cornerstone of all ICPSD operations. Overseen by a Togolese forest and restoration specialist, the native plant nursery provides a place accessible to all community members in which to learn, research and trouble shoot agroforestry approaches in their unique context.
ICPSD's Youth Community Development program involves local youth in reforestation education and efforts. We help build their capacity for involvement and leadership development by supporting their education (both via instruction and financially) and providing resources for personal and leadership growth and development. We have also partnered with regional schools for both educational and tree planting activities.
Workshops put on by a local women's cooperative – Lolonu – help educate local and regional leaders and community members in native plant restoration and agroforestry efforts. By partnering with communities, local organizations and local units of government, local community members have better access to resources, support and participation that enhance local capacity while also establishing precedent for sustainable growth into the future.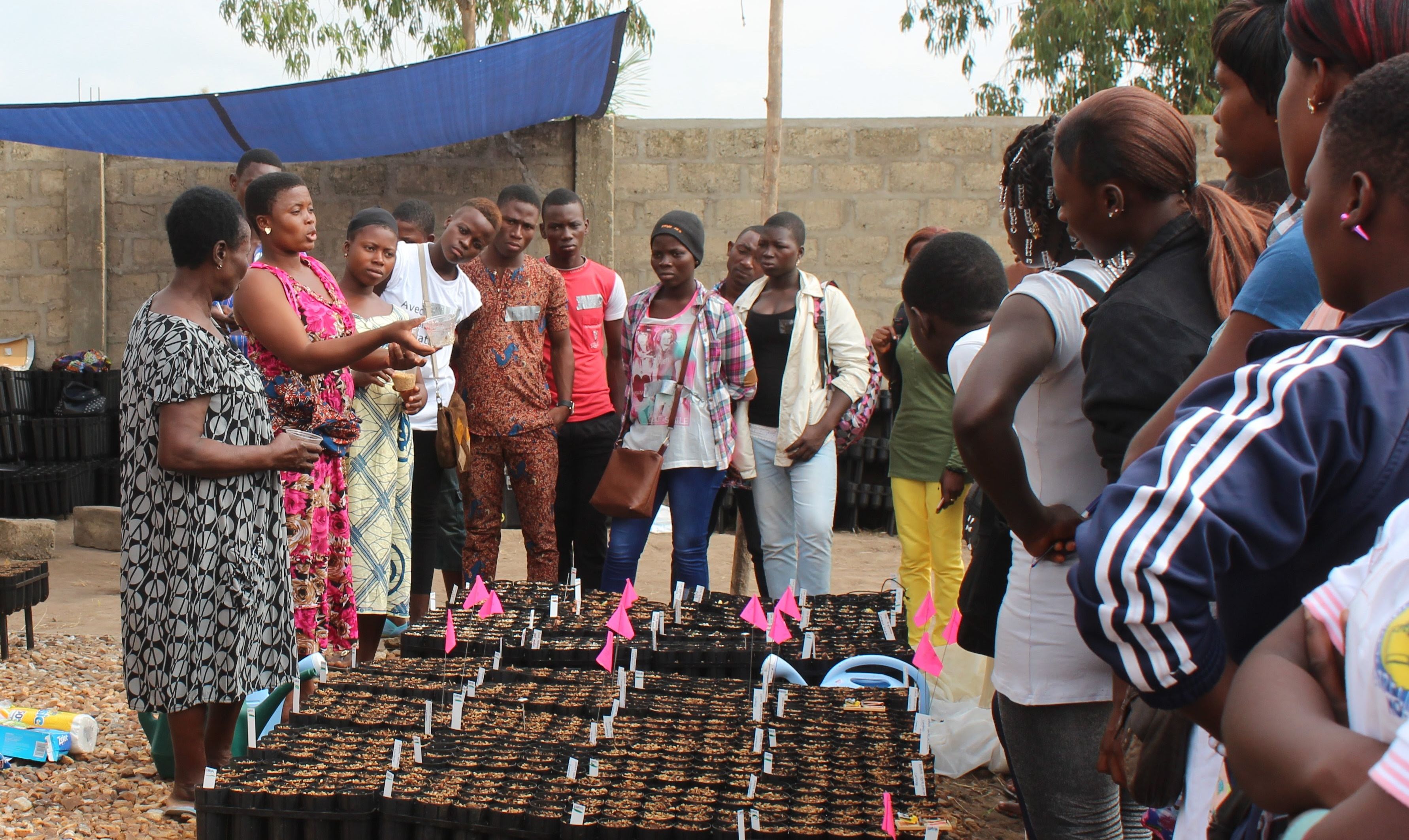 LOOKING FORWARD
Reforestation provisions and agroforestry are in high demand in Togo. Currently, our securing Togolese staff, land purchases, and a greater capacity for education and seedling production. Both the nursery and the out planting site sit on leased land. We also have a greater demand for seedlings and workshops from local and regional communities. For long-term sustainability of native plants, the nursery, and community research, it is crucial to own the land used by the nursery and out planting site. This will also allow for the production of more native plant seedlings and a larger agroforestry learning platform that can be a better resource not only for Togo, but for the larger region and country.
WHO IS ICPSD?
ICPSD is a collaborative and innovative change making organization. At its heart is the desire to support people as leaders and stewards of their own growth and development. ICPSD acknowledges and asserts that Africa is the "epitome of resilience" and home to "technological geniuses, artists, activists, scholars and thriving despite slavery, colonization and continued exploitation by western countries in the present day." (Quotes from Chidera Ihejirika's 2018 article in Afropunk.) ICPSD was founded by Togolese native and U.S. citizen Dr. Romuald Afatchao as a means of giving back to his communities and countries. It was incorporated as a nonprofit organization in the state of Idaho in 2012. 501(c)(3) tax status was received and on the ground operations ramped up in January of 2015.
Institute for Community Partnerships and Sustainable Development is a tax-exempt public charity (federal tax ID #462168828). All contributions are tax deductible to the extent allowable by law. No goods or services were provided in exchange for your generous financial donation.