Become a Leaf411 Ambassador and change lives!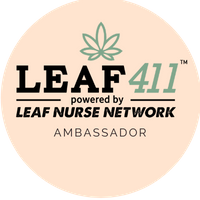 Dave
Please help me in supporting Leaf411. The call volume has doubled since the start of COVID, and Leaf411 need YOUR generous donations to hire more nurses to meet the demand. Can I count on YOU to help keep the calls free for everyone?
You can create change by becoming a Leaf411 Ambassador.
October 13th is the first birthday of our program, the FREE Cannabis-Trained Nurse Hotline! At any time, you can call the Nurse Hotline to receive education around how to use cannabis legally and safely, as well as where to access cannabis that is being sold from reputable dispensaries.
By becoming a Leaf411 Ambassador, you will be given all the tools you need to help us raise funds for EVERYONE who is looking for assistance with cannabis use to assist them in living healthier lives.
What does a Leaf411 Ambassador do?
Leaf411 Ambassadors will be given access to all the tools you need to reach out to your friends, family, and coworkers about making a donation to Leaf411. This toolkit will include an email template, social media posts, text message information, and more. If you raise more than $1,000, you will also receive a special surprise!
Why am I raising funds?
Leaf411 has seen an incredible increase in need since the beginning of the year. Our current anonymous cannabis nurse hotline has hit capacity of calls that can be taken each day. To double our impact before what we know will be a very busy holiday season, we need to raise $25,000 to take our trained medical nurses to full time.
You have the power to double our impact by providing educational and directional support to the general public about the safe use of legal cannabis through our trained medical nurses.
Leaf411 is a tax-exempt public charity (federal tax ID #83-2421133). All contributions are tax deductible to the extent allowable by law. No goods or services were provided in exchange for your generous financial donation.