RIVERVIEW APARTMENTS
$152.56 of $1,000,000
Big Sky Community Housing Trust and Lone Mountain Land Company will collaborate to develop a new housing complex that will offer approximately 90 residential rental units built exclusively for Big Sky's workforce.
BSCHT Launches Collaboration with Lone Mountain Land Company to Continue Developing Workforce Housing
In January of 2021, Big Sky Community Housing Trust announced its collaboration with Lone Mountain Land Company to develop a new housing complex that will offer rental units built permanently and exclusively for local workers. Pending an agreement for SFE allocation with the Resort Tax Board and the Water and Sewer District, this effort will continue a comprehensive, multi-year community effort to address Big Sky's housing shortage. With workforce housing in mind, LMLC recently closed on the former American Bank property and will soon close on the adjacent parcel off Lone Mountain Trail. The purchase of these two parcels marks another step in LMLC's work to create more affordable housing for those who work in Big Sky. LMLC also recently acquired Buck's T4, River Rock Lodge, and the Powder Light parcel next to Ace Hardware, among others, to create additional workforce housing. "In order for the Big Sky community to thrive, it is imperative that local workers have access to quality, affordable housing," Matt Kidd, Managing Director of CrossHarbor Capital, which oversees LMLC, said. "We are thrilled to be working in conjunction with the Big Sky Housing Trust on this large-scale initiative that will benefit the Big Sky community for years to come."
Long-Term Vision | Workforce Housing Campus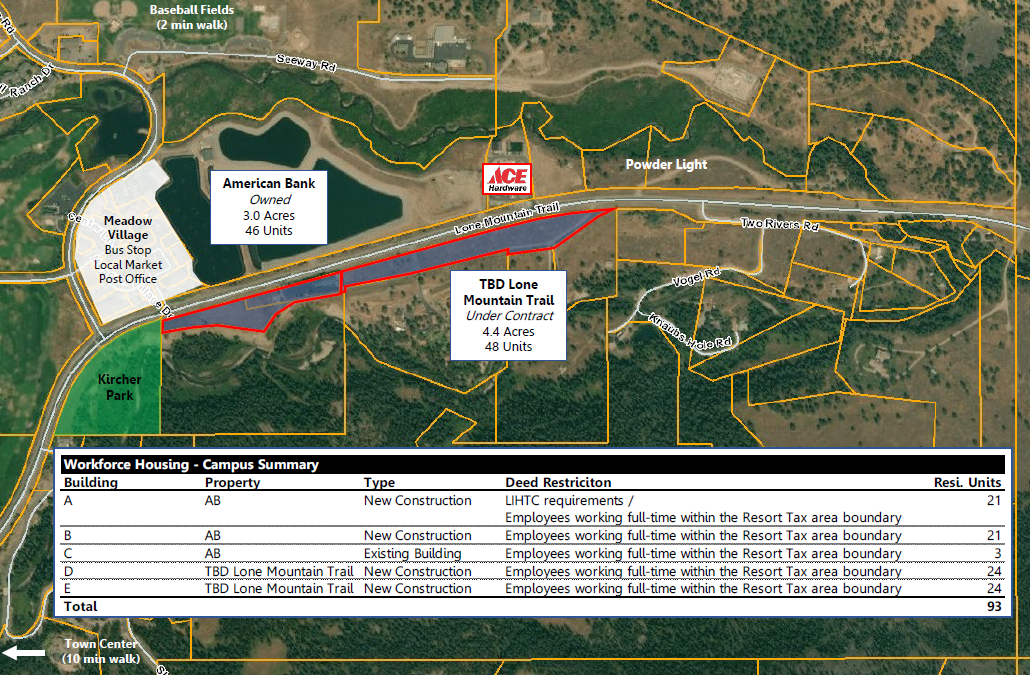 LMLC and the Housing Trust are in the initial phases of structuring and designing the housing that will eventually be built along Lone Mountain Trail. Currently, the parties are contemplating a mix of unit types and rental rates, all of which would be deed restricted to prohibit short-term rentals and be available to members of Big Sky's workforce. Additionally, a portion of units are likely to be rent-restricted.   A consulting team is currently conducting a market survey to better understand the number of people in Big Sky at each income level to strategically determine the best use of the parcels in terms of number of beds and units possible. The development of the American Bank parcels will truly be a community collaboration. Big Sky's Water and Sewer board is being asked to annex the property into the district, which is now possible because of the one percent Resort Tax increase earmarked for needed treatment system upgrades as well as the allocation of sewer treatment capacity for workforce housing. The Housing Trust is also working closely with the Resort Tax board to obtain additional funding and ensure that all public funds would clearly support the community at large.
Proposed Development Plan | Site Overview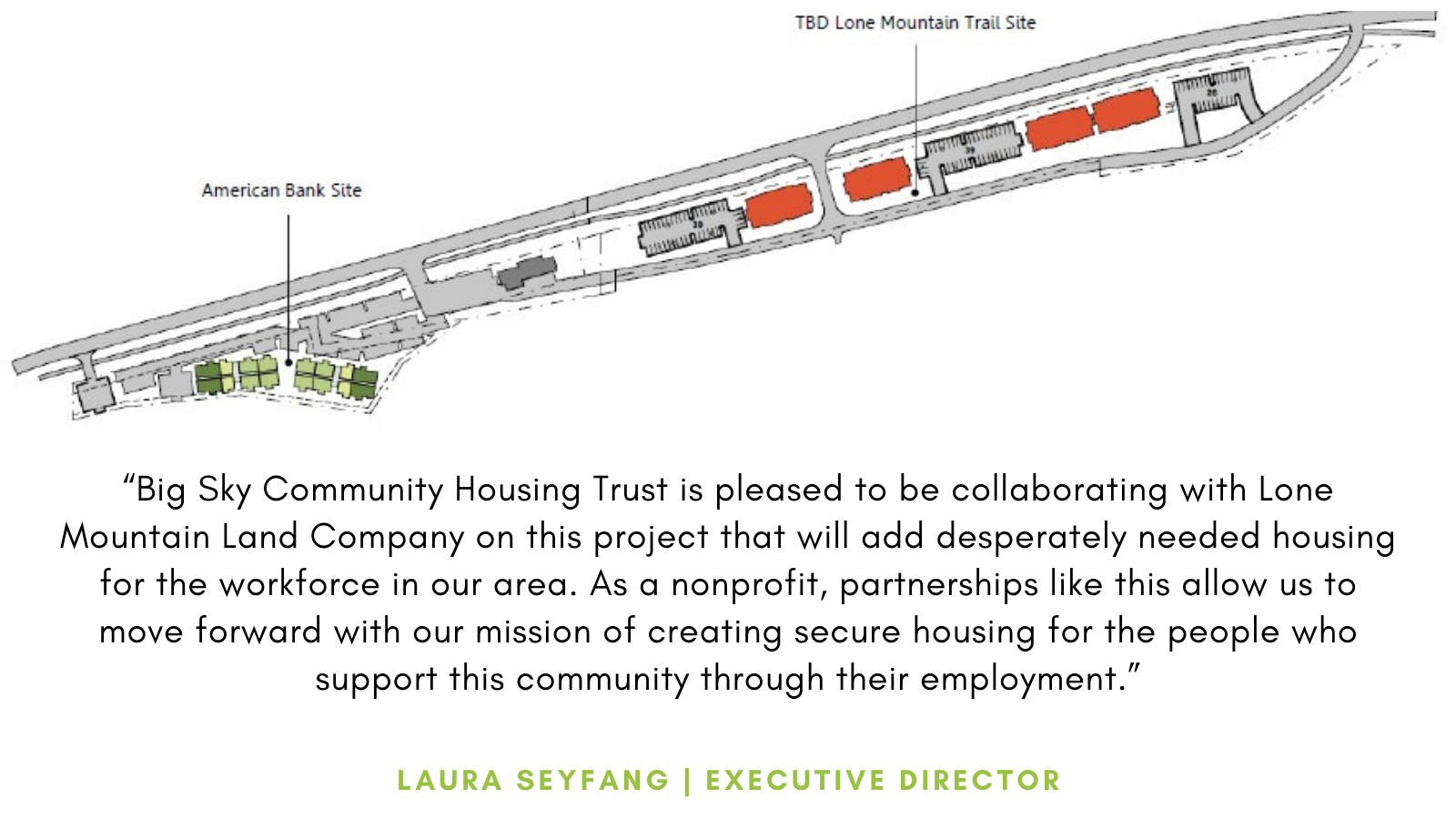 Big Sky Community Housing Trust is a tax-exempt public charity (federal tax ID #84-3391892). All contributions are tax deductible to the extent allowable by law. No goods or services were provided in exchange for your generous financial donation.