Baxter's Story:
Baxter is an 8 year old Shiatzu-mix who up until 2 years ago was living a normal happy life with his mommy, Alice, and older doggie brother and older doggie sister. Then his 16 year old brother became sick and Alice had to make a tough decision to put him down when he began to have health related seizures. Then 6 months ago his also senior sister passed unexpectedly, leaving Baxter alone to hear his and his siblings special song sang to him by Alice.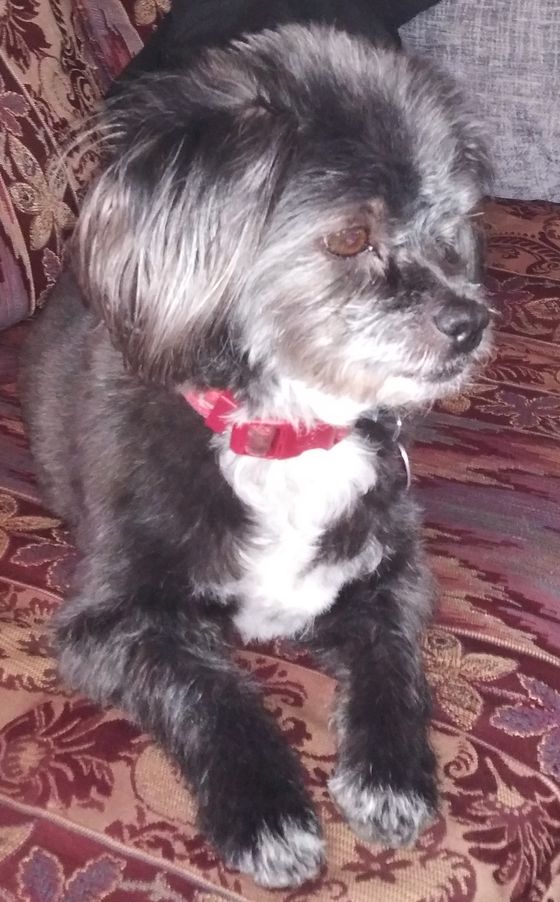 You see, Alice and Baxter have a special bond. She watched Baxter's birth and was able to imprint on him from that day on. A few weeks ago Alice noticed Baxter wasn't feeling well, wasn't eating, and seemed to be in pain especially around his mouth. But she had no money and no where to turn. Hearing about Pet Care Coalition Inc. from a friend, she brought Baxter to Dr. Forster. After running tests, Dr. Forster found that Baxter's primary problem is that his teeth are badly infected, making him sick, and are starting to affect his overall health. Conclusion: Baxter needs an EXTENSIVE dental procedure and will probably have all his teeth removed!
What is Alice To Do? She Can't Afford the Procedure!
Alice is a disabled senior on a fixed income, barely with enough money to pay for rent and a few groceries. She is left asking herself how is she going to afford to help her loved companion and friend healthy, happy, and himself again? It hurts, especially when they have already suffered so much loss.
Why Is Pet Care Coalition Asking For Donations?
Here at Pet Care Coalition Inc. we feel that NO ONE should have to choose between paying for rent and taking care of their pet, especially when they are trying their hardest to help their pet live the happiest, healthiest, and longest life possible.
Alice is definitely in a tough position, and we want to help Baxter get to feeling better. If we don't, Baxter probably won't receive any procedures and care because Alice can't afford it without literally starving herself or loosing her home. With no care, Baxter's life will be shortened and he will be hurting and sick. Alice doesn't want that, and neither do we!
How Can YOU Help?
Share the word! Make a donation! We are hoping to reach at least $600 for the expected procedure, but more would guarantee covering any unforeseen costs. ALL FUNDS NOT USED FOR BAXTER WILL GO DIRECTLY TO ANOTHER PET IN NEED! Any money left over will go to our Huey Fund!!!
The Huey Fund Helps Animals Like Baxter and Alice!!!!!
The Huey Fund is where 100% of all donations received go DIRECTLY to helping an animal and owner in need like Baxter and Alice. The clinic subsidizes up to 40% of all care provided to pets in need, if you would like to make a donation to help us continue these discounts for low income families, veterans, and seniors visit our website at www.petcareco.org, where you can donate directly to the Huey fund.