Funds to install School #8 and do Maintenance Visits for schools 1-6
$10,181.65 of $25,000
Each donation helps us meet our goals for installation of lightning protection systems at Mulabana Primary School and for the Maintenance visits to six schools your funds have already protected. *Newly installed #7 Mongoyo school is exempt this year.
Mulabana Primary School is at high risk of lightning strike.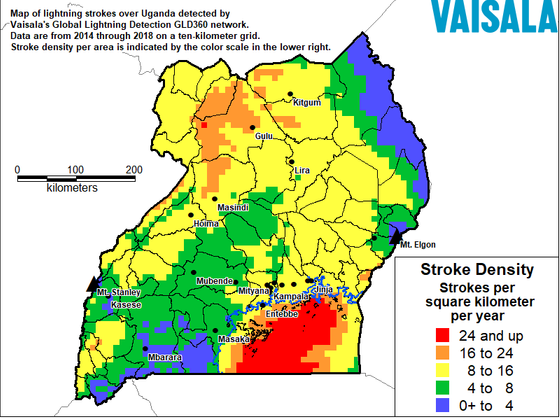 Mulabana Primary School (School #8) is located on Kalangala Island in Lake Victoria where the highest rate of lightning has been measured for Uganda (see red area in the stroke density map at right). In 2021, we sent our team to survey three schools on Kalangala island.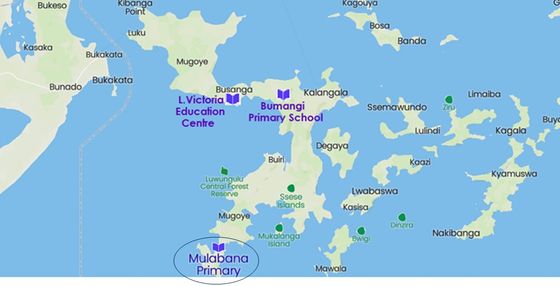 Before Covid changed the world, Gopa Kumar of CAPE Electric India offered to donate LP materials from his company to protect a school of our choosing. He has been a loyal friend, sticking with us through all the delays, and has even agreed to pay for shipping charges from India to Mombasa, the nearest port to Kampala and to send a technician to assist with the installation.
Although we are working our hardest to get safe, standardized, tested lightning protection materials stocked in Uganda, there are none at this point and we must import them, so we need funds to pay for import fees, transportation across Kenya and half of Uganda to get to the ferry to the island, and expenses for the installation team.
Regular Maintenance is needed for each school to be sure their Lightning Protection System is intact.
With your help, ACLENet has installed lightning protection systems at seven schools across Uganda (see map). Covid messed up our biennial schedule for inspection and repair visits to the oldest six schools. We need your help to maintain what your donations have already built. Please consider funding part of the maintenance visit to a school.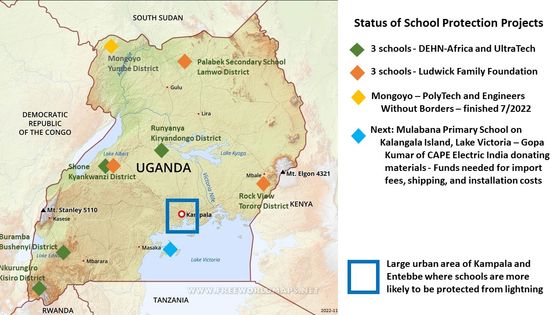 THANK YOU for your PRAYERS, DONATIONS, TIME, KIND WORDS, and EMOTIONAL SUPPORT over these last eight years! We have accomplished so much with God's Grace and your support.
African Centres for Lightning and Electromagnetics Network Inc. is a tax-exempt public charity (federal tax ID #811417000). All contributions are tax deductible to the extent allowable by law. No goods or services were provided in exchange for your generous financial donation.