Preserving Homes for Residents
$300,000
Immediately help local residents with down payments to purchase a market-rate home in Big Sky.
Donate Now
GIVE THE GIFT OF HOMEOWNERSHIP
Bank loans require homebuyers to pay 20% of their property's purchase price to avoid the extra expense of private mortgage insurance. With the average cost of a basic condo exceeding $1,000,000, coming up with $200,000 for a down payment is almost impossible.
the solution . . .
Modeled after Vail's successful InDEED program, Big Sky Community Housing Trust introduces GOOD DEEDS, a program designed to preserve existing inventory for locals serving the community.
Homeowners, buyers, or sellers who participate in GOOD DEEDS receive CASH in exchange for placing a permanent deed restriction on their property.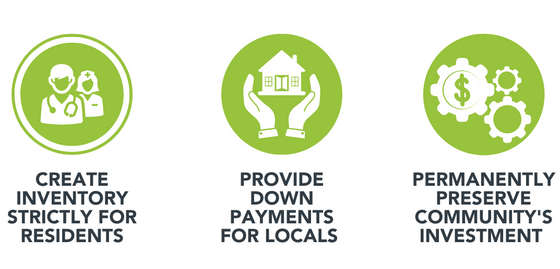 Big Sky Community Housing Trust is a tax-exempt public charity (federal tax ID #84-3391892). All contributions are tax deductible to the extent allowable by law. No goods or services were provided in exchange for your generous financial donation.