Help Studio 210 & DSDT Create Community in 2022
$4,974.69 of $5,000
Half way there! Hitting $5000 allows us to create new videography workshops for the community and expand our video tutorial library for Another Way of Looking.
Meet Angela, Summer 2021 Resident
Angela Arteritano participated in DSDT's Studio 210 Residency program in Summer 2021. As a recent transplant to the Bay Area, Angela was seeking an opportunity to re-engage with her art practice and develop her latest project, Retratos Migrantes, while becoming acquainted with the Bay Area performance community. Through the residency, she received that and much more!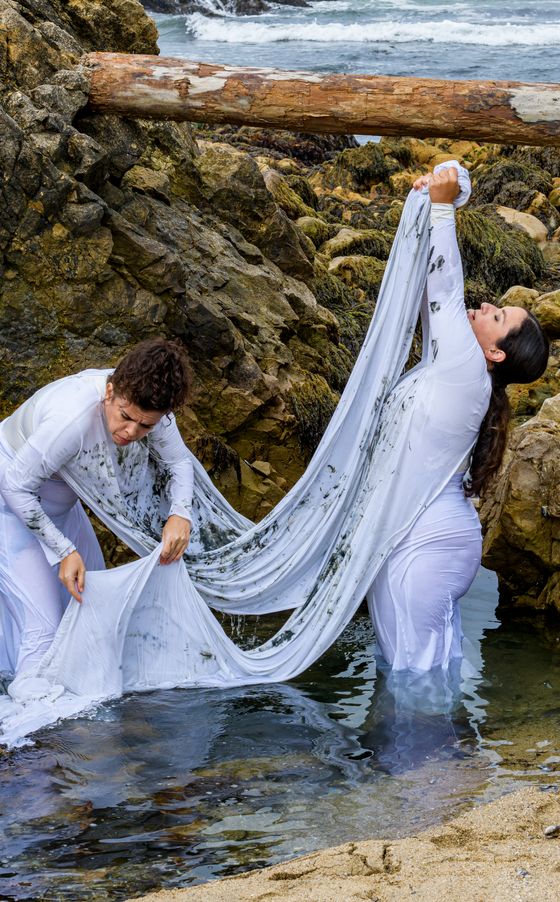 "Having the time and resources to continue developing my practice as well as having performance opportunities to expose my work to the community was incredibly helpful to situate myself within the Bay Area performing arts community...The mentorship by Deborah Slater was invaluable, allowing me to continue to question and provoke change within my practice...Ultimately the residency gave me the opportunity to explore my ideas freely without worrying about the many limitations I usually encounter as an individual artist. I finally had the space, time and resources to create new work...The residency was exactly what my body and practice needed, and I will be forever grateful to Deborah Slater, my collaborators, and the amazing team at Studio 210. " -- Angela Arteritano
Help us continue the legacy of the Studio 210 Residency, while we create new programs to support more artists like Angela through our Create Community Campaign! By donating to this campaign, you're providing vital support to our community programs and the creation of new artistic work by Deborah Slater Dance Theater.
The Community segment of the campaign supports our programs that directly impact the performing arts community and foster the development of the next generation of artists:
Studio 210 & the Residency Program - providing artists space and mentorship to explore the performance-making process
Another Way of Looking - offering workshops and video education in creating digital content for dance-makers
Workshops hosted by DSDT - creating opportunities for Bay Area choreographers to explore, develop, and connect
Each of these programs connects artists with knowledge, mentorship, and resources, while creating community connections and expanding the network of support for performance-makers in the Bay Area. Donate to the campaign to help us expand our programming and offer scholarship opportunities to artists in need.
The Create branch of this campaign supports new artistic work by Deborah Slater Dance Theater (DSDT). Working with Bay Area organizations that focus on elders and youth, DSDT is undertaking a large-scale collaboration in 2022, In the Presence of Absence, an intersectional exploration of our recent collective experiences. By conducting interviews and collecting stories from a wide array of community members, DSDT will be asking, "What moments stand out in this unprecedented time of collective experience?" Help us tell the story of this historic time and develop this new performance work by donating today.
Strengthen our dreams for 2022 by donating today! Help us connect artists, audiences, and communities through dance and performance and Create Community today!
Banner Image: picturing Kyle Limin & Jenny McAllister, by Robbie Sweeny Inset Image: picturing Niurca Marquez & Angela Arteritano, by Kyle Adler
Deborah Slater Dance Theater is a tax-exempt public charity (federal tax ID #943085133). All contributions are tax deductible to the extent allowable by law. No goods or services were provided in exchange for your generous financial donation.