Protect Our Veterans
$0 raised
Created by Care Association
We are in a major housing crisis!
The cost of housing is at an all-time high. Rents and home sales continue to rise. And your teachers, hospital staff, waiters, food store checkout clerks, house cleaners... many households are unable to afford it.
CARE CLT is a nonprofit housing provider in the business of preventing displacement and creating affordable residences for everyone. We are working hard for Forever Homes!
Help us raise $15,000 to continue housing veterans
A 12-unit apartment building in the city of Stockton, California is 100% occupied by veterans, and it will go on the market unless we buy it. Though the seller intends to place a condition of sale that veterans remain in the building, there is no guarantee they won't be displaced in the future. Care Association wants to keep this building off the speculative market under our community land trust, CARE CLT. As units become vacant, they will be offered to unhoused veterans.
Among the 50 states, California has the highest number of veterans living without shelter, nearly 11,000. And veterans who do have homes are at greater risk than non-veterans for becoming homeless, according to a 2015 study by Yale University and the VA Connecticut Health Care System.
Creating Affordable Residences for Everyone (CARE)
We want to ensure that veterans remain in the building, and offer its residents an opportunity to become part owners of their home. In order to do this we need to raise at least $15,000 for a 1.5% origination fee to close on a purchase loan.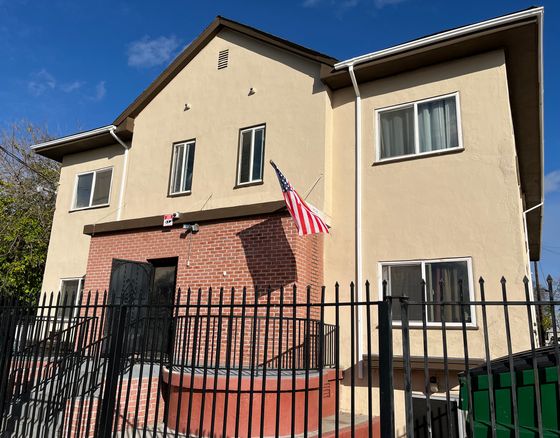 How we can keep this building affordable
Our community land trust, CARE CLT, is a non-profit vehicle that will keep the land on which the building stands off the real estate market. This enables the units in the building to remain affordable in perpetuity. The purchase price is $1MM, or $83,333 per unit. The building was built and once owned by the armed forces and dates back to the turn of the 20th century. For just $83k, a household will be housed for as long as the building stands.
The building was built and once owned by the armed forces and dates back to the turn of the 20th century. Its construction is solid. Compared to the cost to build in San Francisco today at $750,000 a unit, purchasing this building defines it as truly affordable.
Objectives
This is what we will accomplish in the purchase of this building:
Protect its tenants - There is currently no deed restriction on the property. Upon purchase of the property, CARE CLT will add a deed restriction that ensures any residential units on the lot will remain affordable.
Honor our veterans - CARE CLT is proud to give back to our veterans with our first real estate purchase.
Expand programming and resources - The basement level of the building is mostly vacant. Of many possible uses, we may: 1. house a building construction skills workshop; 2. store equipment for future construction; and 3. provide a community room for residents to gather.
Train and serve veterans - The building skills workshop will be available to residents, non-resident veterans, and to other public programs, providing basic skills for entry-level positions in the building trades. Care Association is working with other nonprofits to provide services and will work with the Office of Veterans Affairs.
(Source information about our country's heroes came through here.)
You can make a contribution today and give back to those who have put their lives on the line for our political, religious, and individual freedom.
Frequently asked questions
Why can't you get funding from the VA? We might be able to get funding from the VA, but grants and loans are offered at specific times of the year, and right now is not one of them.
How will the property be managed? The sale of the building will also come with the building's current property manager.
What kind of loan are you trying to get? We plan to apply for 100% financing through a CDFI, or community development financial institution. In California, CDFIs receive funds through the Golden State Acquisition Fund, which has a mission to preserve and expand quality affordable housing for Californians by providing a flexible source of capital for the development and preservation of affordable housing properties.
How did you find this building? A donor who has contributed to Care Association approached us to buy the building.
Is $15,000 all you need? This amount is the bare minimum that we need to raise to close on a loan from the CDFI, Community Vision. Another financial institution requires $20,000 to close. We will be able to apply for grants as soon as we gain ownership of the property.
What will you do with the money if you end up not needing it? Origination costs could be covered by the lender. In that case, the money will still be allocated toward supporting the residents of the building. Repairs will be made, spaces in the basement will be constructed, and the back yard can be designed and upgraded.
Can we find out more about who lives there? At this time we are respecting the privacy of the residents. After acquisition, we will learn more about who lives there and about their needs.
Is a donation tax-deductible? Yes. All monetary contributions are 100% tax deductible as allowed by law.
Is there another way I can help? You can also donate saleable goods at the Community Thrift Store on Valencia Street in San Francisco, California on behalf of Care Association. Even BETTER, please share our fundraiser with people you know who can make a financial contribution.
THANK YOU!
Care Association is a tax-exempt public charity (federal tax ID #352595978). All contributions are tax deductible to the extent allowable by law. No goods or services were provided in exchange for your generous financial donation.