CreateHER: Support the Educational Program of SheNYC Arts
$2,312.76 raised
Created by She NYC Arts Inc.
BUILDING THE NEXT GENERATION OF LEADING WOMEN
CreateHER, the official education program of SheNYC Arts, is a FREE semester-long course for girl-identifying and non-binary high school students interested in writing and producing for theatre. Through this program, students are given the technical and creative tools to take their ideas from page to reality. CreateHER provides high-level playwriting and producing courses and features guest speakers who are leaders in the theatre industry: from producers and general managers, to groundbreaking playwrights, dramaturgs, and marketing directors. By the end of the semester, all students write, produce, and present a short play of their own.
Our course prides itself in establishing a community that encourages creative collaboration among young women. As of this spring, CreateHER will have presented original work by 38 high school students, many of whom made their writing and producing debut in the program.
BEYOND THE CLASSROOM
CreateHER is committed to making sure participants have the tools needed to pursue college programs, internships and entry level jobs in theatre. With this mission at top of mind, CreateHER partnered with the Broadway Women's Alliance in Fall 2020 to provide one-on-one mentorship and career prep opportunities for our students and alumni.
Pictured: Our CreateHER students on the stage of Broadway's August Wilson Theatre, after seeing MEAN GIRLS and getting a talkback with the crew.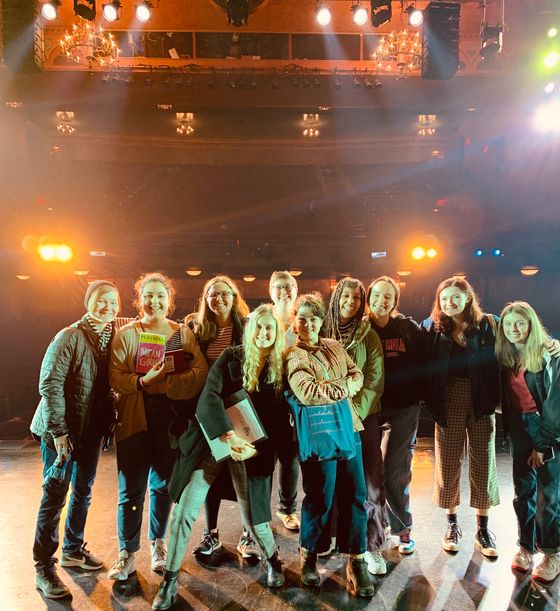 She NYC Arts Inc. is a tax-exempt public charity (federal tax ID #814416545). All contributions are tax deductible to the extent allowable by law. No goods or services were provided in exchange for your generous financial donation.