Support the Black Caucus of the American Library Association Today!
$7,540.72 of $100,000
Scholarships, Programming and Annual Conference
Donate Now
Celebrate Giving Tuesday with the BCALA READ-A-THON!
BCALA is presenting the BCALA READ-A-THON on Giving Tuesday - November 30, 2021. Readers will read excerpts from their favorite works between 1pm-9pm (EST). Please select a donation category between $5.00 to $100.00. You may designate a sponsorship of a reader or donor by including their name in the note section after you select a donation amount. Thank you in advance for your support!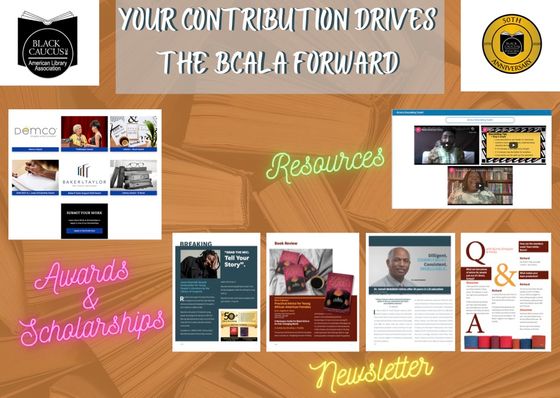 The Black Caucus of the American Library Association is a dedicated organization that continues to support Black information professionals within the field. As an organization, we confront broken industry practices and pursue a higher standard for our members and future generations.
Your contributions support continued great work. Now more than ever, this community and organization are needed. Together we provide a valuable support system that champions Black contributions to the field of library and information science.
Each day we celebrate our 50th anniversary. A $50 gift, $1 for each year of our work, will support African American librarians and the communities we serve. https://www.bcala.org.
Members share the informative resources and lifelong friendships developed during the National Conference of African American Librarians (NCAAL), which is designed to bring together library workers to learn, explore, and engage with each other. Check out our website at https://www.ncaal.org.
We honor and celebrate the exceptional work of African American authors in the fields of adult fiction and nonfiction through the BCALA's Literary Awards. Check out our 2021 Literary Award Guidelines
We thank you in advance for your support. BCALA is a 501(c)3 non-profit organization and all donations are tax-deductible. May Your Donation Inspire The Next Generation.
Thank you,
BCALA
Black Caucus of the American Library Association is a tax-exempt public charity (federal tax ID #521892263). All contributions are tax deductible to the extent allowable by law. No goods or services were provided in exchange for your generous financial donation.