Evening of the Stars 2023
$31,269 of $50,000
Send 10 of our Teen Members to BGCA's National Keystone Conference in 2023!
It's the 35th Annual Evening of the Stars Gala!
It's gala season, and we are gearing up to celebrate all who have continued to Help Build Great Futures at BGCN!
This year, we've reached 85 years of Great Futures here in Newark, and we can't wait to celebrate with you!
On May 10, 2023, join us again at the Park Avenue Club in Florham Park, NJ as we celebrate those who have provided support, encouragement, and so much positivity for our kids this year! Cocktails start at 6:00PM EDT. It's going to be a fun night with shared moments of our past year, as we strive toward reaching our goal of $500,000!
Leading up to the event, we will share stories, links, photos, and videos about our young people, and issue important information related to our in-person event. These messages will be filled with details including the run-of-show, our 2023 honorees, and the many ways that you can show your support prior to, during, and after the event!
Sign up for our newsletter or donate now to support the 1,000 youth that we serve. And don't forget to like and follow us on social media to keep up with all the happenings at BGCN each day.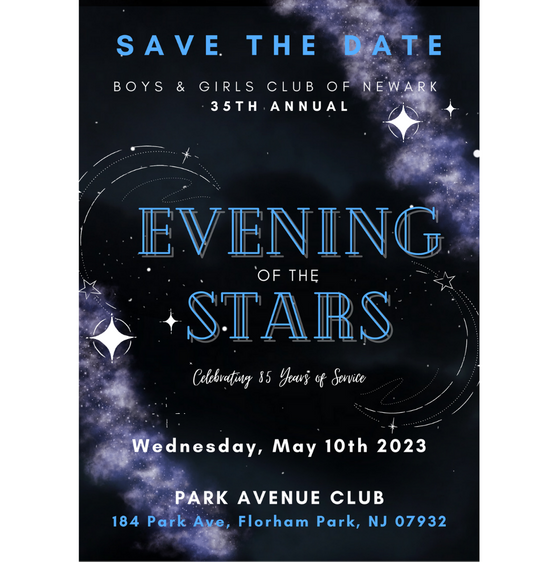 WILL YOU DONATE TO OUR EVENT THIS YEAR?
We're counting on your attendance and support to make this year's Gala one for the books! Be sure to follow us and stay tuned for more excitement around our in-person Gala Experience!
Join us as we celebrate future-building individuals with the following awards:
Cynthia M. Banks Award for Caring Honoree: This award is a tremendous honor given annually to an outstanding individual or organization that selflessly gives time, talent and support to improve the lives of the children of BGCN. Join us as we honor this year's phenomenal recipient!
William "Jazz" Jones Award Honoree: A substantial individual will be recognized for their continuous commitment to initiatives that benefit organizations such as BGCN with the William "Jazz" Jones Award!
Youth of the Year Award Honoree: In showing leadership potential and academic excellence, this award showcases one of our youth that have excelled in their growth and development. We will be honoring BGCN's pick for Youth of the Year at this year's gala!
HOW CAN I SUPPORT?
For additional information, including how to sponsor, visit us on our EOS 2023 site!
Evening of the Stars will be held May 10th with cocktails starting 6:00PM EST. We cannot wait to have you join us in our gala experience this year!
ADVERTISEMENT INFORMATION
RESERVED TABLE OF 10 ATTENDEES | $3500
HALF-PAGE AD | $1250
FULL-PAGE AD | $2500
Boys and Girls Club of Newark is a tax-exempt public charity (federal tax ID #22-1515405). All contributions are tax deductible to the extent allowable by law. No goods or services were provided in exchange for your generous financial donation.