St Vincent de Paul Christmas Fundraiser 2020
Christmas Wreath Sale 2020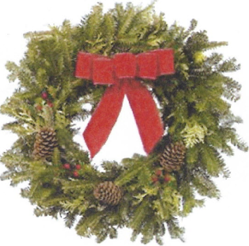 The Society of St. Vincent de Paul is selling 24" mixed greens Christmas wreaths. These quality wreaths come with pine cones and an optional bow. Proceeds from this sale benefit those in need in the Elgin community this holiday season.  
The cost of each wreath is $30.
You can purchase a wreath(s) here online until 6:00pm November 20th.  
Your phone number is required to allow contact if you do not show up for pickup.
Pick up will be at the St. Laurence Church parking lot on November 21st from 10 am to 11:30 am.
If there are any wreaths still available after Nov. 20th, you can purchase them on the day of pick-up on a first come, first serve basis.  Please bring a check to pay for the wreath(s).
In lieu of wreaths donations can be made to St. Vincent de Paul.
Please select a box showing the number of wreaths you want, or multiply the number of wreaths by $30 and donate that amount in the Custom Amount box.
If you are donating without purchasing, or are donating in addition to your purchase cost, let us know in the comment box under Donor Information on the Payment Details page.  Please include the extra amount donated.
Thank you for supporting our efforts in helping those most in need in our community.