You have the power to impact generations of students by empowering teachers in Arizona through your generous donations and your AZ TAX CREDIT!
$3,501.90 of $25,000
$25,000 impacts the work we do of supporting children, classrooms and teachers! All donations go towards the creation of an endowment fund that will help us address basic needs of students identified by teachers and increase classroom support.
Donate Now
Your AZ Tax Credit and Donation make a HUGE IMPACT when you donate them TO MILLION DOLLAR TEACHER PROJECT!
Your donation to Million Dollar Teacher Project, a QCO tax credit organization (QCO Code 21040) , will support and assist our teachers serving low income children, families and schools. Million Dollar Teacher Project (MDTP) is a nonprofit, 501c(3) organization founded in October 2016. Our Mission is to elevate the teaching profession by increasing Recognition, Compensation and Support. Contributions for the 2020 tax year can be made through April 15, 2021. Maximum contributions are $400 for filing single or $800 for filing jointly. Remember, that State Tax Laws dictate what you receive as a refund. Please double check your maximum contribution to receive the full Arizona Tax Credit. Please designate your generous Tax Credit in the Comments section when you donate.
Teacher Endowment Fund - Empowering Teachers to Empower our Youth!
Each year, teachers spend over $1,000 of their own money on school supplies for their students and classrooms so they can set their students up for a successful school year. Million Dollar Teacher Project is excited to announce the IN TEACHERS WE TRUST FUND. An endowment fund that will continue empowering teachers to change the world. Your partnership is critical to our teachers continued success. Imagine having to work an extra shift without extra pay, after waking up early and going to sleep late. Imagine having to create an environment that is warm, safe and invites learning. Imagine having to use your hard-earned money to get to the starting line and at every step to get to the finish line. Imagine doing this while supporting your own household. While this seems ridiculous, 100's of Teachers are imagining what a supported classroom, where they have everything necessary to meet their students needs, would be like. A Teacher's commitment to their personal dreams of impacting children is so deeply rooted that they continue to do the difficult job of molding our youth despite lack of resources, support, or training. The support and programs that Million Dollar Teacher Project is providing to our Teachers, our Schools, our Children, and our community is necessary because we are the only program of our kind supporting teachers where they need it-- in the classrooms. Your donation is giving not only teachers what they need to impact their students, but the opportunity to live the lives they deserve. The Million Dollar Teacher Project believes that teachers shouldn't have to use their limited resources to enable their students' success, and their own professional development. By providing resources to our teachers, we, the community, are able to empower our educators with the supplies and training they need to be successful so they, in turn, can make our students successful.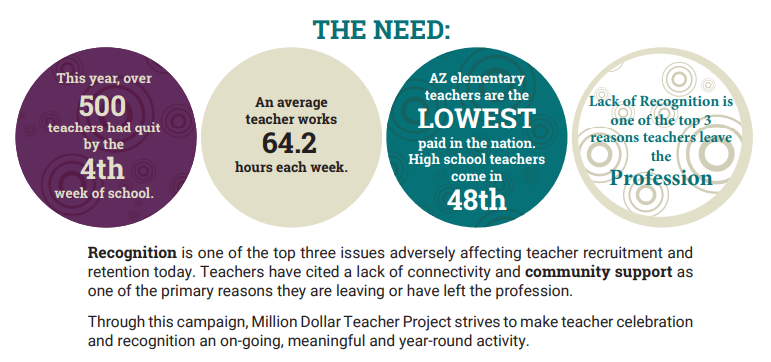 Your generous donation or designated AZ tax credit impacts the next Generation of Leaders!
Malala Yousafzai said, "One child, one teacher, one book, one pen can change the world." At Million Dollar Teacher Project, your gift directly supports Teachers and Students by providing: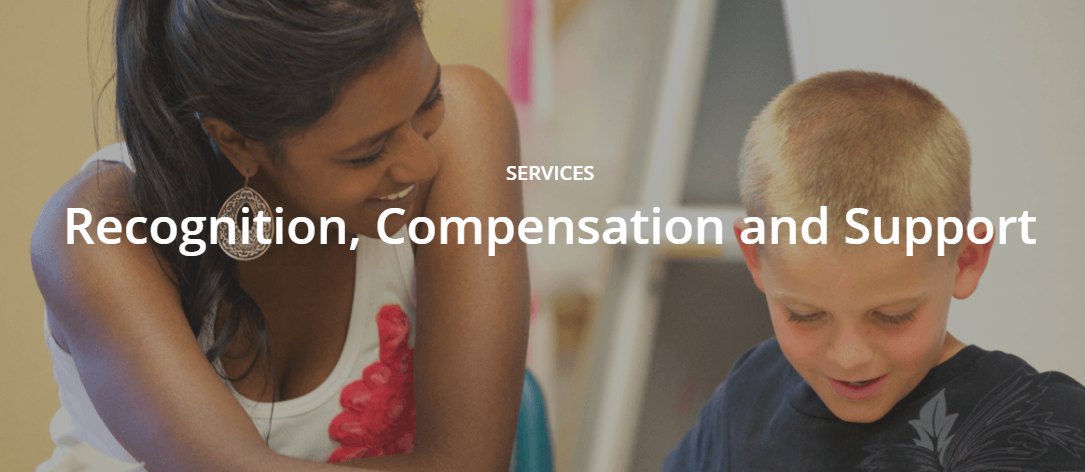 Basic Needs
Emergency FundsClassroom Field Trip GrantsScholarshipsClassroom Support ProgramsSupplies & Technology
Teachers leave an indelible mark on a student's life...
Million Dollar Teacher Project focuses on providing for a Teacher's classroom needs so that Teachers can focus on what they do best-- TEACH! Here's what some of the parents have to say on why supporting our mission is important:
"My daughter's teacher is really good at communicating with me with my daughter's improvement and she has improved a lot since she started attending Granada west." - Granada Primary Parent - "Because I see my son motivated with his studies and he feels comfortable in his class and understood by his teacher... Thank you for being a huge support for my son." -Granada Primary Parent - "Because I see good communication between the teacher and my son and thank you for the support that you all provide for my son." - Granada Primary Parent
Million Dollar Teachers Are Excited Too!
- "I received so much of my time back! Between parenting and teaching, this is the best life I've lived this year. This pilot program has helped me with patience, anxiety, and my focus". – Jacquelyne Foster, Third-grade teacher - Granada Primary - "I have gained more free/personal time. More time to reflect on my practice. I have become a better mentor, teacher, co-worker, mother, and wife. I have been able to pursue my national board certification, explore my own personal ventures, and understand with a more in-depth responsibility as a special education teacher". – Monica Baird, Special Education – Granada East - "Reducing my amount of work, I took home was a huge success! This year I didn't feel as burnt out as in other years. My assistants being able to work with small groups and help with targeting certain skills. I've been able to focus more on my parent communication, my lesson planning and targeting students". – Maria Madrigal, Third-grade teacher - Granada Primary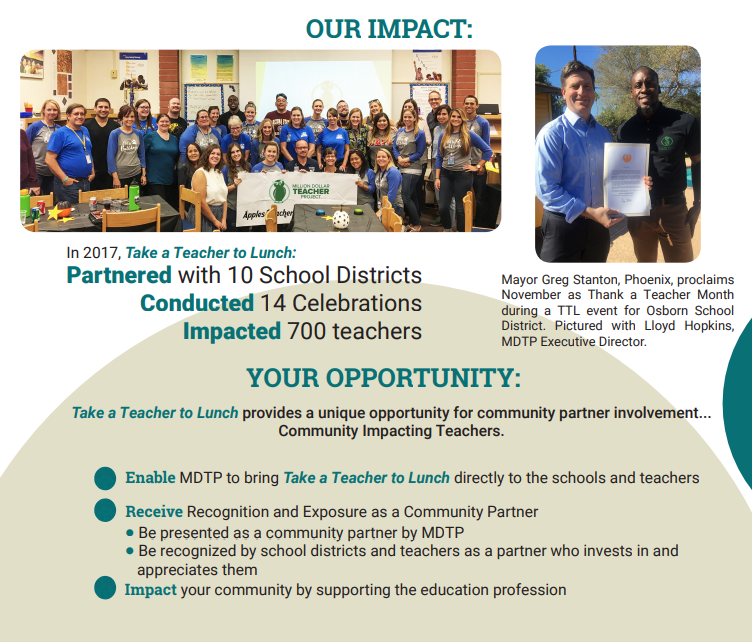 THANK YOU FOR BEING A PART OF OUR TEACHERS AND CHILDRENS' BRIGHT FUTURES. YOUR INVESTMENT AND SUPPORT ARE DEEPLY APPRECIATED AND CELEBRATED!