Donate to the Tebo Train
$295.61 of $500
Reaching this goal covers our costs for operating the train for a week!
All Aboard!
Downtown Boulder offers FREE rides on the 100% Electric Tebo Train five-days a week (Monday - Friday) from Memorial Day until right before Labor Day on the one and only Pearl Street Mall for children ages 10 and under (along with accompanying adults).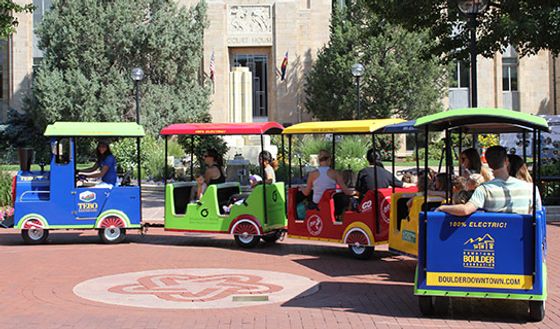 We invite riders and members of our community to support this one-of-a-kind experience by leaving a tip to support the program. Donations here directly support the costs associated with train operations.
About Us
Downtown Boulder Community Initiatives (DBCI) (formerly known as Downtown Boulder Foundation) is a 501(c)(3) nonprofit created in 2017. Our mission is to engage visitors and locals alike through arts, culture, innovation and inclusive, community-driven experiences in downtown Boulder.
Our vision is a downtown Boulder that is:
A place that welcomes and is accessible to all;
A canvas to celebrate the creativity and unique essence of Boulder;
A vibrant hub of economic activity and innovation; and
Part of the larger Boulder community, seeking to partner in civic solutions for the greater good.
The Downtown Boulder Community Initiatives areas of focus include cultural experiences, community connection and the future of our downtown.
Downtown Boulder Community Initiatives is a tax-exempt public charity (federal tax ID #36-4848287). All contributions are tax deductible to the extent allowable by law. No goods or services were provided in exchange for your generous financial donation.