Empower Youth with First Tee - South Puget Sound
Don's First Tee Fundraiser
Don's First Tee Fundraiser
William's story is one I will forever cherish as part of First Tee - South Puget Sound. Not only was William introduced to the game of golf through First Tee, but his continued participation presented a unique opportunity that took him to the U.S. Open Championship where he walked along PGA Professionals as they competed for one of golfs majors. I encourage you to watch this 3:30 video and learn just how impactful this organization can be: https://www.youtube.com/watch?v=BgxDsTh3dvk In addition to William, I am passionate about military youth at JBLM having access to First Tee. A few years ago, my wife Tracie and I met three young kids at the Harbottle Golf Classic. Their dad was in the military and their mom was a stay-at-home mom homeschooling and trying to get them every opportunity she could afford. The military discount given at First Tee helped her kids participate, but at one point it wasn't enough and they would have to take a session off. Tracie and I decided to sponsor those three kids for as long as they wanted to stay in the program. $300 for one session would allow all three of the siblings to continue in First Tee, continue their character development through the Core Values, continue building a friendship with the kids on base, work with their coach and mentor, Coach Frank, and grow to love the game of golf. I encourage you to continue reading about the impact First Tee has had in the community, and learn about why the Youth Scholarship Fund is so important to this organization and the thousands of youth impacted each year. Thank you for your support and if you would like any additional information about First Tee - South Puget Sound please reach out to me!
Empower Youth at First Tee
First Tee is a youth development organization that enables kids to build the strength of character that empowers them through a lifetime of new challenges. By seamlessly integrating the game of golf with a life skills curriculum, we create active learning experiences that build inner strength, self-confidence, and resilience that kids can carry to everything they do.
A Breakdown of How We Empower Youth:
1,547 unique youth impacted at 13 programming locations throughout Pierce, Kitsap, Thurston, and Cowlitz Counties
40,500 youth reached through the School Program at 83 schools including elementary, middle, and high schools
19,000 youth empowered through the Community Partner Program by providing programming at no charge to organizations such as Boys & Girls Clubs, Rescue Mission, Kings in Training, JBLM Military Youth, and more
60% of participants utilize the Youth Scholarship Fund for full or partial scholarships because we believe all youth deserve access to the game of golf and its inherent life values regardless of financial status
A Story of Perseverance
While we have had amazing participant moments during our ten years of programming, one memory that will never fade is that of Donté's experience. Donté has been participating in First Tee programming since 2016 through our partnership with Kings in Training. In 2017, Donté's father was sadly killed in a shooting in the streets of Tacoma, and he was left with very few people to turn to in his life. The partnership between Kings in Training and First Tee - South Puget gave Donte' the outlet and safe space he needed to grow and learn.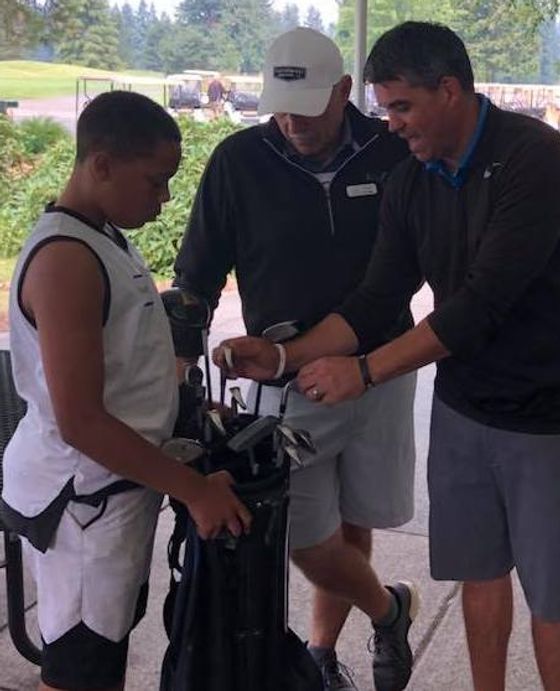 In early 2018, Alex Davis, Kings in Training Executive Director and First Tee Board Member, approached First Tee and asked if we had any sets of golf clubs Donté could use. Alex told us how Donté wanted to learn the game of golf and what it meant to him to be able to come to Meadow Park. During our next programming session with Kings in Training, we gave Donté his very own set of golf clubs and told him anytime he wanted to come hit balls outside of programming he was welcome at Meadow Park. Donté teared up and gave us a big THANK YOU! He has come out to Meadow Park many times since and continues to work on his golf game, along with incorporating the Nine Core Values into his everyday life.
First Tee of South Puget Sound is a tax-exempt public charity (federal tax ID #451781054). All contributions are tax deductible to the extent allowable by law. No goods or services were provided in exchange for your generous financial donation.