Keep Our Engine Running! Help Us Buy a Van!
$5,361.88 of $21,500
Help us reach our goal of $21,500 to purchase a 2020 Toyota Sienna that will enable us to continue transporting our meals, supplies, equipment and personnel.
Donate Now
Note: The graphic above reflects the total amount raised through online donations, offline donations (cash and check), and Dr. Harold Ayabe's matching gift (up to $10,000).
Did you know an important member of our team has four wheels?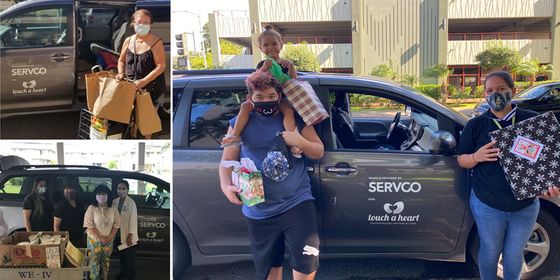 That's right, our Toyota Sienna plays a crucial role in our operations!
In 2019, we were fortunate to be selected by Servco Pacific as one of 10 nonprofit recipients for its Centennial Service Campaign, Nonprofit Vehicle Loan Program. The gift of the two-year loan for the van has enabled us to transport our meals, supplies, equipment and personnel so that we can serve our community. Prior to the pandemic, we were also able to take our foodservice training program participants on field trips, which we hope to resume soon.
Servco Pacific recently presented us with an option to buy out the 2020 Toyota Sienna at a discounted cost of $21,500. In order to maintain our level of operations and reach, we hope to take advantage of this offer and humbly ask for your support.
"We really want to ensure that this van has a permanent home with us," said our Executive Director Robin Kumabe. "It may be easy to see it as a mere mode of transportation, but it's so much more than that; it means people being fed and lives being transformed."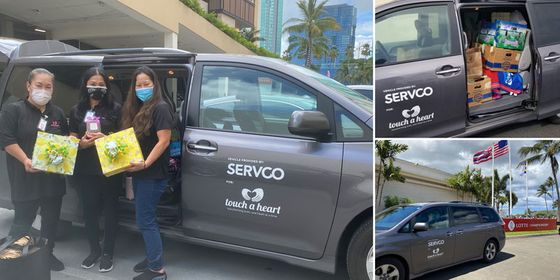 Our dear friend and supporter Dr. Harold Ayabe has also stepped up to help us with a matching gift up to $10,000. With this generous match, for every dollar that you give (up to $10,000), Touch A Heart will receive two dollars, doubling your impact.
Please help us to purchase our van and keep our engine running by making a tax-deductible donation toward this campaign. Your gift means we can continue helping and touching the hearts of others, especially our vulnerable kupuna, amidst the ongoing challenges of the pandemic.
Mahalo for your consideration and support! If you have any questions, please reach out to us at info@touchahearthawaii.org or (808) 779-7083.
Touch A Heart Inc is a tax-exempt public charity (federal tax ID #20-8310130). All contributions are tax deductible to the extent allowable by law. No goods or services were provided in exchange for your generous financial donation.