Charles Schwab Challenge Grant
$100
Provides one scholarship for a participant to experience First Tee! No child is ever turned away from programming due to an inability to pay, and roughly 60% of participants utilize the Youth Scholarship Fund to help offset registration fees.
Donate Now
We've Accepted the Challenge to Make Your Gift Go Further!
The Charles Schwab Challenge Grant is happening right now at First Tee - South Puget Sound. Our chapter's ability to receive this match will be tied directly to your support!
Your donation will help us make a bigger impact in our community, reach more kids and teens like Zach.
"First Tee has taught me how to be successful and confident about what I can do on and off the course. I enjoy First Tee because I get to meet new people and have fun playing golf. First Tee also helps me to get outdoors and enjoy nature."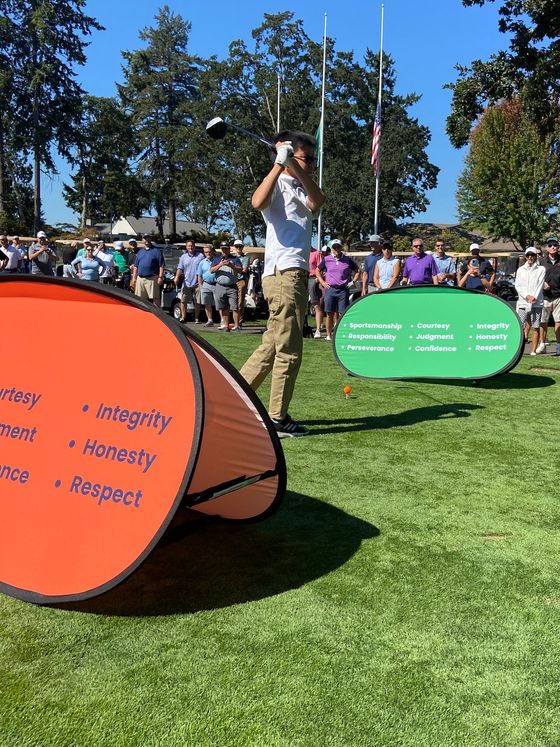 A Breakdown of How We Empower Youth:
2,700 youth impacted at 14 programming locations throughout Pierce, Kitsap, Thurston, and Cowlitz Counties
40,500 youth reached through the School Program at 83 schools including elementary, middle, and high schools
19,000 youth empowered through the Community Partner Program by providing programming at no charge to organizations such as Boys & Girls Clubs, Rescue Mission, Kings in Training, JBLM Military Youth, and more
60% of participants utilize the Youth Scholarship Fund for full or partial scholarships because we believe all youth deserve access to the game of golf and its inherent life values regardless of financial status
First Tee of South Puget Sound is a tax-exempt public charity (federal tax ID #451781054). All contributions are tax deductible to the extent allowable by law. No goods or services were provided in exchange for your generous financial donation.