Help Reach Our Fundraising Goal!
$1,109.53 of $10,000
Donate today to help us keep Conjunto music alive through our unique programs focused on the preservation, instruction, and perpetuation of Conjunto music!
Our Story
The Conjunto Heritage Taller is a community-based non-profit organization established in San Antonio in 2002 that is dedicated to the preservation and perpetuation of traditional Conjunto music as played with the button accordion and bajo sexto. The Taller provides low-cost instruction on the accordion and bajo sexto and seeks venues where students can perform. CHT's student body is intergenerational, ranging in age from 7-80 years. Our motto is Musica Tradicional for Youth of all Ages!
The Music
Conjunto is a unique musical genre born over 100 years ago in central-south Texas, from the melding of musical traditions and instruments of the European and Mexican settlers of this area. The button accordion and the bajo sexto come together, creating music that blends German/Czech polkas, waltzes and chotises with the Mexican corridos and huapangos.
Our Programs - Conjunto in the Community:
Intergenerational Classes and Jams: For over 18 years the Conjunto Heritage Taller has been working to preserve and perpetuate this traditional music by providing instruction and performances in the community. It began as a grassroots effort sparked by the desire of a few conjunto enthusiasts who saw the need to keep this traditional artform alive for generations to come. Since then, over 300 students have received instruction in accordion and/or bajo sexto and have performed at countless events around the city, serving as ambassadors to educate the community at large about this music, which is unique to our region and which has played such an important role in San Antonio's cultural fabric.
Senior Accordion Classes: Each year, prior to the COVID-19 pandemic, with the support of the Texas Commission on the Arts, the Conjunto Heritage Taller offers an 8-week program of Free Accordion Classes for seniors at various community centers. We are currently holding classes at Commander's House Senior Center, and plan to run another 8-week series at another senior center this summer.
Music Theory: As part of our core curriculum, we have implemented music theory courses. Currently, these courses are offered online with a goal of expanding to an in-person setting once it is safe to do so. These courses are designed to supplement our accordion and bajo sexto lessons, providing students with knowledge of basic to advanced music theory concepts as they apply to Conjunto music. Some of the concepts explored and practiced in these courses include reading and writing sheet music, building scales, roman numeral chordal analysis, key changes, and chordal structures of Conjunto Music.
Transcription and Archival Project: As a response to the lack of Conjunto music transcriptions, and to supplement our Conjunto music education programs, we launched a transcription and archival project. The goal is to standardize Conjunto music education through curriculum development, archiving of culturally significant compositions, conservation and transcribing of aural taught folk-music.
We need You!
As a non-profit organization, the Conjunto Heritage Taller offers low cost, and sometimes free lessons, to make this opportunity accessible to anyone who has an interest in learning. We rely on grants and contributions from individuals to make this possible, and we are truly grateful to all our supporters!
Please donate today to help us keep Conjunto music alive!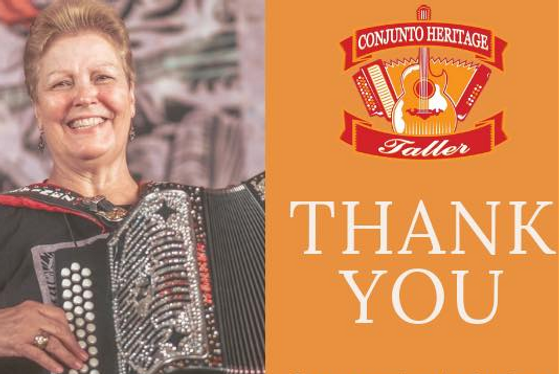 Conjunto Heritage Taller is a tax-exempt public charity (federal tax ID #141849936). All contributions are tax deductible to the extent allowable by law. No goods or services were provided in exchange for your generous financial donation.