UPDATED - 2023 Match for Minmahaw!
$11,903.78 of $15,000
Third goal: $15,000! Thank you kind and generous folks for getting us half-way through our 2023 Match for Minmahaw! We are on a roll, let's keep the momentum up and get this match wrapped up to support Minmahaw's deserving students.
Minmahaw School Rocks On!
Summer School was held March - May 2023 for the first time since the pandemic! The curriculum was focused on becoming more English proficient. While here, students participated in the unique Minmahaw culture with other students from Myanmar while sharing diverse ethnic backgrounds. The summer school students were first in line to apply for Minmahaw School's academic year.
Principal, vice-principal, teachers and managers are motivated to move Minmahaw through this post pandemic time of learning. These leaders have been forming partnerships with other local and international organizations to teach, inspire, and help financially support Minmahaw's young students. The school started with forty-four students in June and were greeted with the pent-up energy of volunteer teachers from Myanmar, Thailand, Spain, the U.S. and other parts of the world.
Students, with their own pent-up energy are committed to getting the most out of Minmahaw's Post-Ten level of education. Once graduated, students are gaining entrance to colleges and universities around the world and are being hired to work for international NGO's, both inside and outside of Myanmar. Jobs are procured at higher levels of pay, due to student's increased knowledge and use of English, confidence in themselves, and all-around expanded maturity.
Our 2023/2024 academic year begins with the promise of a $15,000 Match from our long-time, anonymous donor. - UPDATE August 2023 - Another $5,000 Match has been offered by friends and long time supporters of Minmahaw School. We have a beautiful total match of $20,000!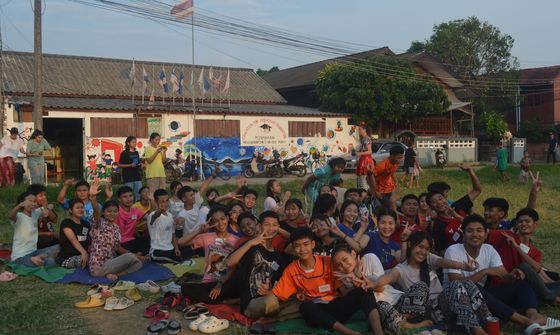 May 2023 - Summer school students
Consider joining the Minmahaw Community with your kind donation. Contribute here and encourage your friends and family to join you in being a part of the 2023/2024 Match for Minmahaw!
Thank You!
Burma Humanitarian Mission is a tax-exempt public charity (federal tax ID #26-3268421). All contributions are tax deductible to the extent allowable by law. No goods or services were provided in exchange for your generous financial donation.